USM reveals sustainability and wellness focus for Clerkenwell Design Week
Modular furniture specialists USM will present a special installation of its award-winning World of Plants system during Clerkenwell Design Week 2022.
As the name suggests, World of Plants for USM Haller, which is suitable for both commercial and residential environments, enables people to be surrounded by greenery. They can thus enjoy all the positive wellness impacts plants bring from increasing productivity and reducing stress at work to increasing wellbeing at home.
World of Plants for USM Haller is designed with modularity in mind like all of USM's products, including its classic USM Haller. This design has remained unchanged since 1963 when Professor Fritz Haller designed a modular furniture solution based on a ball combined with metal tubes, in line with USM Haller's modular design for USM's factory and headquarters in Münsingen, Switzerland.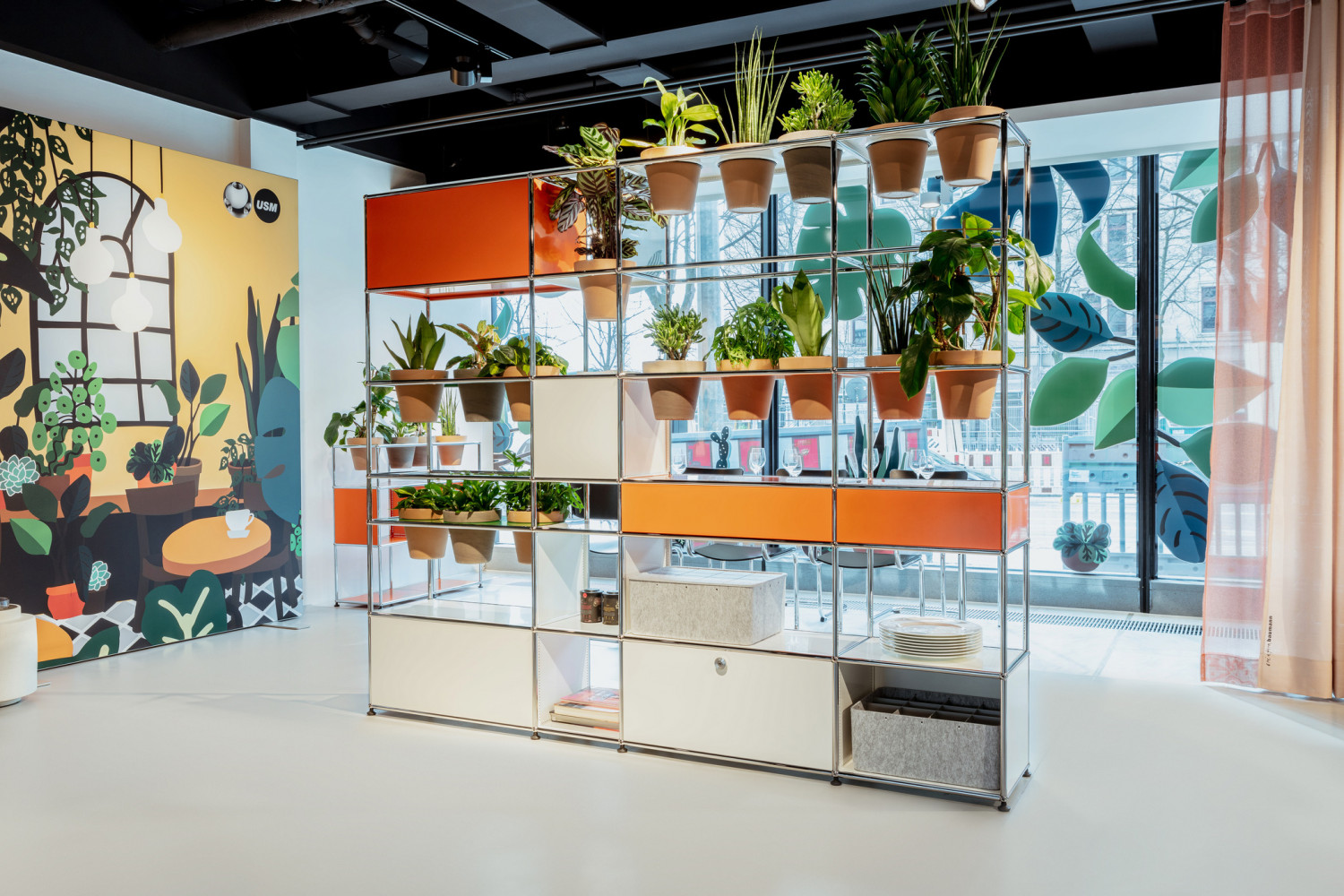 For this reason, USM is renowned as a manufacturer of very sustainable products. As you move into a bigger home or a larger workspace, you can simply add to your existing USM Haller system. Sustainability doesn't just mean buying better and keeping things longer. Everyone has a responsibility to make more sustainable choices in their everyday lives from introducing more plants into their home or office which improves indoor air quality to considering a greener commute.
"Given the current climate emergency, it's essential that people find way to change their behaviour and make more environmentally-friendly decisions on a day-to-day basis," says Ian Weddell, UK CEO.
USM will do its bit to encourage people to ditch their cars in favour of two wheels as it plays host to a special bike by Berlin-based bike brand Standert.
USM's showroom will showcase a workshop trolley and shelving unit displaying all the tools needed to make and maintain a Standert cycle while the bike itself will be prominently displayed on a green USM Haller podium. To celebrate this collaboration, USM will be giving away special wooden bicycle allen keys tool kit to the first 50 visitors to the showroom during Clerkenwell Design Week. Those in need of a bit of TLC for their trusted two-wheeler will also be able to drop in for a bike check up in the showroom during Clerkenwell Design Week.
Throughout Clerkenwell Design Week's, visitors will be able to enjoy refreshments throughout the three days.
USM's showroom is located at 49-51 Central Street, London, EC1V 8AB opening times will be 9am to 18.30pm
Clerkenwell Design Week, 24-26 May 2022
https://www.clerkenwelldesignweek.com