Clerkenwell Design Week – What you might've missed
May 2017 was that time of the year again for everyone to head to Clerkenwell Design Week for a showcase of some of the most creative design in furniture, lighting and interiors. With over 200 exhibitors, including more than 90 showrooms, 10 installations and 7 exhibitions, visitors were not short of choice. Celebrating its 8th year, Clerkenwell Design Week has established itself as the UK's leading independent design festival and one of the most acclaimed trade events.
With lovely weather on our side, our week kicked off with a trip to The Vaults to see Bisley; the iconic storage specialists showed off their LateralFile personal storage and the classic MultiDrawer in the home of the Atkinson Group on St Johns Lane. Each day of the three-day festival they offered passers-by the chance to win a MultiDrawer on the condition of guessing the number of items within a one-off customised Shesh MultiDraw on display. Bisley also hosted an inspirational talk from the engaging Change Maker at BDG architecture + design, Andy Swann, about how to fail in the workplace without getting fired, a skill that sounds risky – but can reap big rewards.
Humanscale opened the doors for two talks over the week. The first discussion was held by Head of Lighting Shane P Cohen and journalist Jill Entwistle on just how much task lighting has an impact our health and productivity; a truly insightful and important topic. The next discussion was on the subject of Simplicity in Design, chaired by leading academic researcher Jeremy Myerson and featuring a panel that included designer Colin Macgadie Chief Creative Officer of BDG architecture + design, Saul Tyler Partner & Head of Workplace at Hoare Lee, Oscar Lhermitte, Curator, Guiseppe Boscherini, Participation Strategist. It was an intriguing discussion the value of essentialism and its effect on successful business ideas.
Humanscale's showroom was a generous and welcoming space featuring the exhibition No Randomness, curated by Oscar Lhermitte. This was an opportunity to understand how the smallest details of designs have purpose.
Over at British Ceramic Tile Dave Hughes, architect and LEGO artist, had pieced together a sculpture titled Collaborate, made of approximately 12000 Lego bricks. The sculpture's design aims to communicate the positivity and joy that comes from working together, a passion for BCT. Alongside this was the beautiful mosaic map of Clerkenwell made by mosaic artist Robert Lally. At the end of the week, British Ceramic Tile held a tile making workshop with their in-house glass expert Georgia Kipling, a perfect moment for some creative downtime after an intense week of visiting various exhibitors!
The Ultrafabrics exhibition space was unlike anything at CDW, using two airstream travel trailers to showcase their Takumi Gallery in St Johns Square. They also hosted a fascinating talk called 'Embodiment + Touch' at the Zetter Townhouse, in which Araceli Camargo and Sarah O'Farrell discussed the neuroscience behind how we are affected by the physical. A truly eye-opening approach to the way we should design in relation to our senses.
Knightsbridge were set in the beautiful grounds of St James Church at the official CDW venue Project. Project brings together a leading selection of contract furniture, lighting and surface brands from around the globe. Launched in 2016, Project's first outing was so successful it has been extended to cover two linked pavilions for Clerkenwell Design Week 2017. Knightsbridge displayed Bebop by @Davidfoxdesign & @camira and launched their new Alfie range at the By Bailey showroom on Clerkenwell Green. Drinks were celebrated later on in the week, along with with the the visiting North American Innovation exhibitors at By Bailey.
To top off a wonderful but intense week, Humanscale hosted their annual epic party to mark the end of CDW in the magnificent home of the LSO, St Luke on Old Street.
Make sure to attend next year if you couldn't make it this time round. We're already excited for what next year will bring…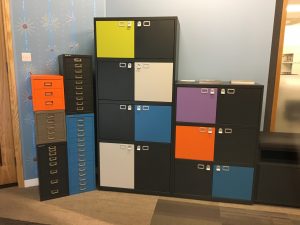 Storage specialist Bisley was proud to once again have been exhibiting at the eighth edition of Clerkenwell Design Week.
Learning how much an influence lighting has in the workplace with Humanscale