Rebel with a cause: Georgia Elliott-Smith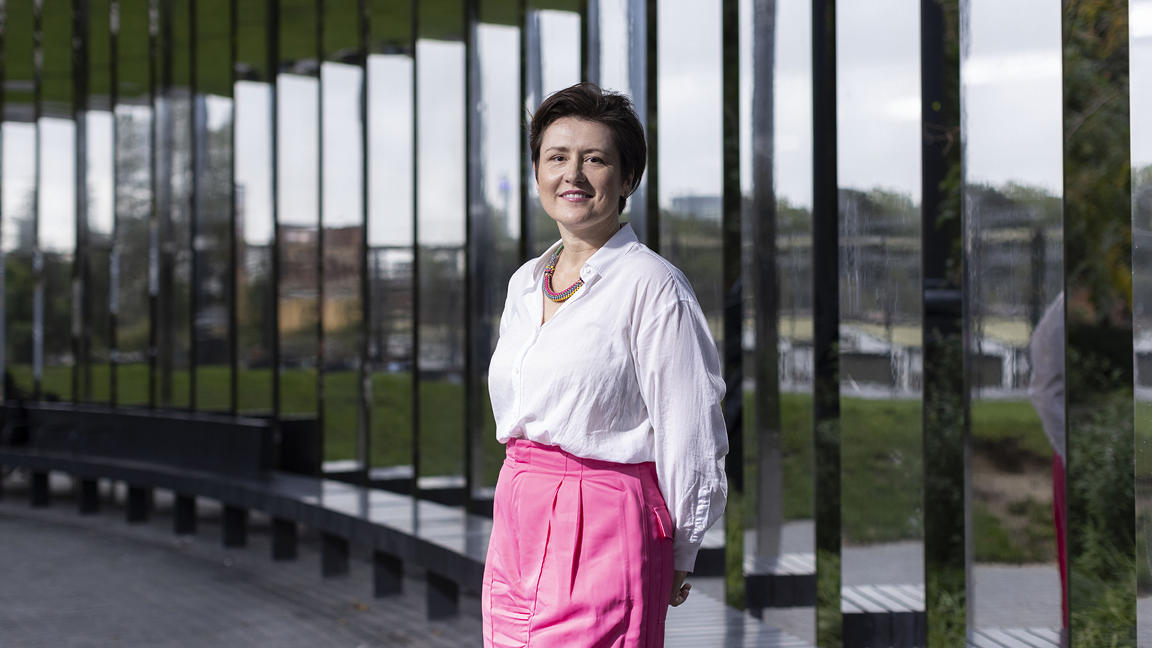 A few days before we meet on screen, I spy Georgia Elliott-Smith in real life across a crowded Granary Square in King's Cross. She was speaking there on a panel about toxic cities at the inaugural Planted event during the London Design Festival.
This is far from a rare sighting, as the sustainability specialist and environmental activist has built up an impressive portfolio of appearances on podcasts, in the press and recently as a guest on Radio 4's Woman's Hour. It's no surprise to learn that she is attending the COP26 climate change conference too. One of the first environmental managers in the UK and now with 25 years' experience in the sector, Elliott-Smith is managing director of consultancy Element Four, consistently employing the idea of 'disruptive sustainability'.
It's been a busy year for Elliott-Smith, not least because she had her groundbreaking case on carbon emissions heard in the High Court earlier in 2021. The case centres on the volume of carbon emissions permitted by industry and the exclusion of waste incinerators from the UK's new emissions trading scheme (ETS).
Though the Climate Change Act 2008 grants the UK government power to set up a cap and trading scheme for the express purpose of limiting greenhouse gas emissions, Elliott-Smith argued that in designing the ETS, the government set the emissions cap far higher than current business-as-usual levels in order to alleviate pressures on industry and smooth the UK's withdrawal from the EU. This, she said, would fail to meaningfully reduce carbon emissions. Although this first round wasn't won, the fight continues in the Court of Appeal. The case has already established a new legal precedent: that the government must act urgently to implement the Paris Agreement targets and not delay until 2050.
Elliott-Smith originally set up Element Four in 2003. "I really felt that sustainability wasn't being done properly," she says. "There were so many environmental consultancies with mediocre behaviour and performance." Her clients include LandSec, Deloitte and Nike, and among the projects completed this year is Here + Now for V7 asset management, formerly part of the Microsoft campus in Reading. "This was two buildings on an old 1990s business park, which have been transformed into healthy sustainable environments providing this amazing community space." Green features here range from improving indoor air quality to paddle boarding sessions in the nearby river Thames.
Element Four worked with the design and construction teams, addressing the scheme's sustainability challenges and their delivery. The buildings will achieve Fitwel 3-star rating, BREEAM Outstanding, RESET Air certification and net zero embodied and operational carbon. For her part, Elliott-Smith is a Chartered Environmentalist (CEnv), a member of the Institute of Environmental Management & Assessment (IEMA), a WELL Standard Accredited Professional and an Ambassador for Fitwell.
While it feels like ESG (environmental, social and corporate governance) has become one the most used three letter acronyms discussed in the boardroom, Elliott-Smith and her team ensure the practical delivery of a sustainable best practice within Element Four's client base, "It's about drawing out principles such as circularity, energy consumption and future proofing." This can be anything from establishing the design and construction brief to auditing supply chains. As for disruptive sustainability she explains, "It's about having a joined up, honest approach to sustainability, challenging the status quo and dropping the greenwash."
Outside the four walls of the property world, Elliott-Smith has worked with a variety of organisations. Early in her career, following an Antarctic expedition, she was a UNESCO Special Junior Envoy for Youth & the Environment, addressing youth audiences on climate change and she has contributed to the Zero Carbon Campaign, which is calling for the UK government to underline its 2050 net zero commitment through meaningful carbon pricing.
She has also worked closely with an investigative journalist from Greenpeace Unearthed on a piece around waste incineration, which discovered that a rapidly increasing number of UK incinerators are being disproportionately built in poorer areas and places with high populations of people of colour.
Most recently, in the spring of 2019, she started participating at Extinction Rebellion events. "I was feeling depressed and hopeless at seeing events unfold such as the 2018 IPCC special report on global warming of a temperature rise of 1.5°C, the Amazon was on fire and I was coming to realise that my work as an environmental professional had failed," says Elliott-Smith. It was a dark time and I found Extinction Rebellion's meaningful action was a way of relieving that." She is also a supporter of the recent Insulate Britain campaign which she believes everyone in the construction industry should be firmly behind.
"I really felt that sustainability wasn't being done properly. There were so many environmental consultancies with mediocre behaviour and performance"
Her activism is combined with a determination that market-led choices and business choices shouldn't be mutually exclusive. At the time of her High Court action she said: "Weak government legislation and lack of effective carbon pricing financially penalises businesses that try to do the right thing by acting sustainably and cutting emissions. The only way to create a level playing field is for the government to implement effective carbon reduction fiscal instruments and policies, which allow industry to invest in innovation to quickly and effectively decarbonise."
As for COP26, Elliott-Smith is concerned about the lack of international consensus on limiting global warming to 1.5°C, with some nations' emissions targets too high to achieve that goal. She is also calling for not just environmental action but diversity too: "I want to see female high-level change, there needs to be far greater diversity at the top. Having greater representation from a much more diverse demographic is a real no-brainer."
"We are going to have to change the way we live, there is a real urgency and we are running out of time."