The Right Kind of January Blues – USM Haller System by USM
January is often looked on as a bit of a miserable month, but the beginning of a new year can also be a time for positivity, as a new year indicates a chance for a new beginning. USM is redefining January blues with its stunning blue shades of the USM Haller System.
The USM Haller collection is recognised as a design classic through its simple yet ingenious design that can be reconfigured time and time again to adapt to different uses. From a few basic components, a beautiful and iconic piece of furniture is built; USM Haller has been designed to grow with its environments ever changing needs, ensuring its versatility in any design scheme.
This extraordinary modular furniture system celebrated its 55th birthday in 2020, a tribute to the timeless nature of the product.
Steel the day – USM Haller in Steel Blue
The darker choice of the two, the steel blue colourway is a sophisticated style that will add character to any room while also blending in seamlessly with most design themes.
Bluer than the Sky on a Cloudless Day – USM Haller in Gentian Blue
This rich intense primary blue shade is perfect for those who want to add a pop of colour to a room in a stylish way.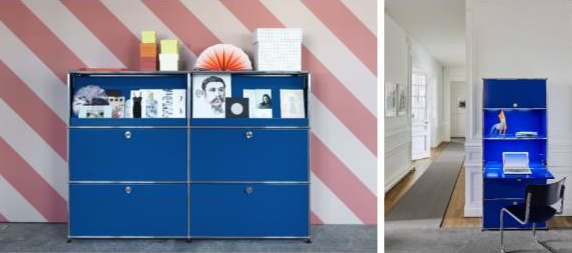 The beautiful blue shades are also available in Haller E, a version of the timeless storage system which produces the perfect light to highlight different objects, creating both atmosphere and directional light. The storage units feature dimmable lighting elements that can be discreetly retracted into the moving rods to serve a wide variety of purposes: they can light shelves and display cases from the inside or effectively cover a wall in light to create ambiance. The Haller E also includes USB charging points, making it easy for you to keep all your devices fully functioning. But the most innovative part of the unit is the power supply, seven years of research and develop means there aren't any cables, making for an organised, stress-free set-up.