Perfectly Personal Paper
In the year where we enjoy the little things, Vintage Playing Cards unveils new and exclusive personalised wrapping paper in collaboration with Abigail Warner, just in time for the Christmas period.
Abigail Warner is a busy creative studio in the beautiful FriarGate Quarter of Derby, renowned for delivering creative solutions, playful design & exceptional customer service. Their signature look combines a playful design with a feminine aesthetic. They are experts in print and event design and offer traditional artisan techniques, renowned for adding craftsmanship to all their work.
Stylish, retro and unique – Vintage Playing Cards has grown from a small cottage business to supplying renowned shops such as Selfridges, Liberty, Oliver Bonas and Fortnum & Mason. This ever-expanding brand specialises in hand-made greeting cards, frames and stationery made from original vintage games including playing cards, and 1920's parlour games that have been individually sourced. Paired with the traditional artisan techniques of Abigail Warner the two independent British small businesses have created the perfect wrapping paper to go with any theme.
Wrapping Paper
These custom gift wraps come in three different bundles of three sheets, five sheets and a three-metre roll also, benefit from having no limit to how many characters you wish for your personalisation. Just add your personalised lettering and the elves behind Vintage Playing Cards and Abigail Warner will be at work digitally printing your chosen name ready for the gift-giving season.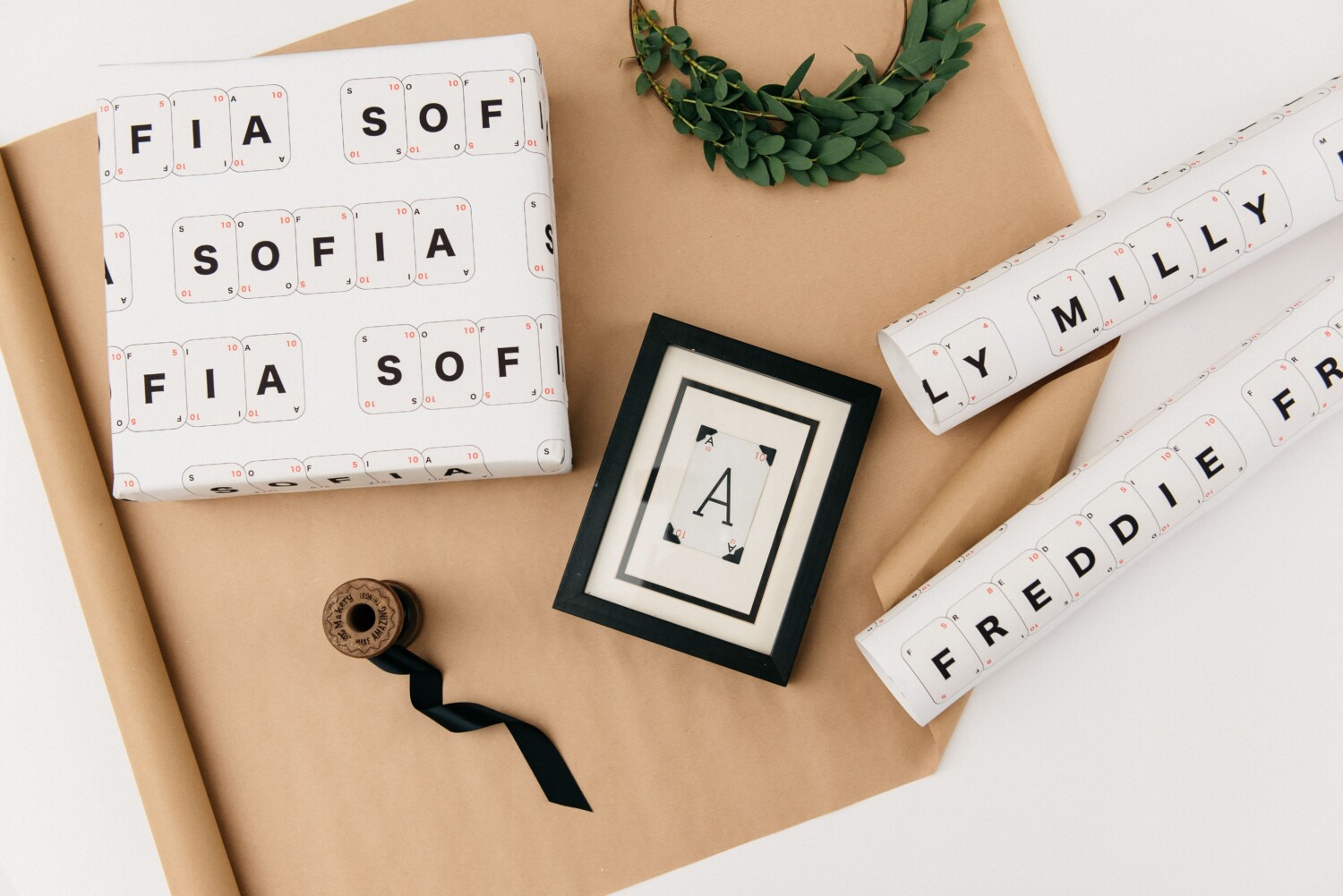 Three Sheets (1 metre x 60 cm per sheet) – £15
Five Sheets (1 metre x 60 cm per sheet) – £20
Three Metre Roll – £25
Other variations of gift wrap that can be found on Vintage Playing Cards include; King of hearts, Queen of hearts, Love and I (heart) you to name a few. Each priced at £2.95 including a matching gift tag.
Gift Tags
Whether your looking for a subtle touch of vintage flare or looking to add the perfect tag to your already personalised gift, get it with Vintage Playing Cards playing card gift tags. Using original cards, these gift tags are the perfect final touches this Christmas. The tags also come in a variation of three, a king, queen or vintage letter.
Vintage Playing Cards Tag – £1.25 each
Alternatively, when buying one of the main collection gift wrapping paper Vintage Playing Cards also have a gift-wrapping service, whereby for £6.95 they can gift wrap your gift in paper of your choice and sent directly to the recipient.
Vintage Playing Cards can be purchased directly from www.vintageplayingcards.co.uk or for your nearest stockist call 020 8521 0993.