Strong international showing for 2021 as Surface Design Show Awards finalists revealed
Representing the best of material innovation from around the world, the finalists of the Surface Design Show Awards are now disclosed. The judging panel, co-chaired by interior designer Nicola Osborn from Basha-Franklin and engineer Steve Webb of Webb Yates Engineers, selected 31 finalists from over 100 entries that were submitted this year.
Reflecting on the truly international nature of the Awards, entries that made the list of finalists include projects from Germany to Costa Rica and Oman to San Marino. Following on from its success in last year's Awards, when the Krushi Bhawan building in Bhubaneshwar by Studio Lotus won the Supreme Winner Award, India once again has two entries that made the finalists in 2021. Sustainability was also high on this year's agenda, with each entry accompanied by a statement and calculation for the carbon footprint of the cladding/materials used.
There was a strong showing in the Light and Surface Interior category with Maida Smiles Dental Clinic by Pedra Silva Architects, Coffey Architects' Apartment Block, Padmanabham by Ritika Rakhiani, Leucos Wall Light by Andra Munro and Backlit Onyx Staircase by Blee Halligan all making the shortlist. Maggie's Leeds by Heatherwick Studio // Light Bureau, also in this category, was praised for being, 'just beautiful and comfortable, which is what it was designed to be'.
Maggie's Leeds also got a nod in the Light and Surface Exterior category, along with Center Street Parking Garage by Marcy Wong Donn Logan Architects // International Parking Design (IPD) and 108 Chambers by Woods Bagot, both projects from the USA. The finalists for the Housing Interior category spanned the globe with Alpine Retreat by Galuchat in France and a Beach Home by Hedayat from Egypt alongside two UK projects: Cabin on the Coast by Studio Evans Lane and Bumpers Oast by ACME. The latter was praised by judge Joseph Henry from the Greater London Authority (GLA) as 'a contemporary interpretation of a historic building that is well detailed and well executed'.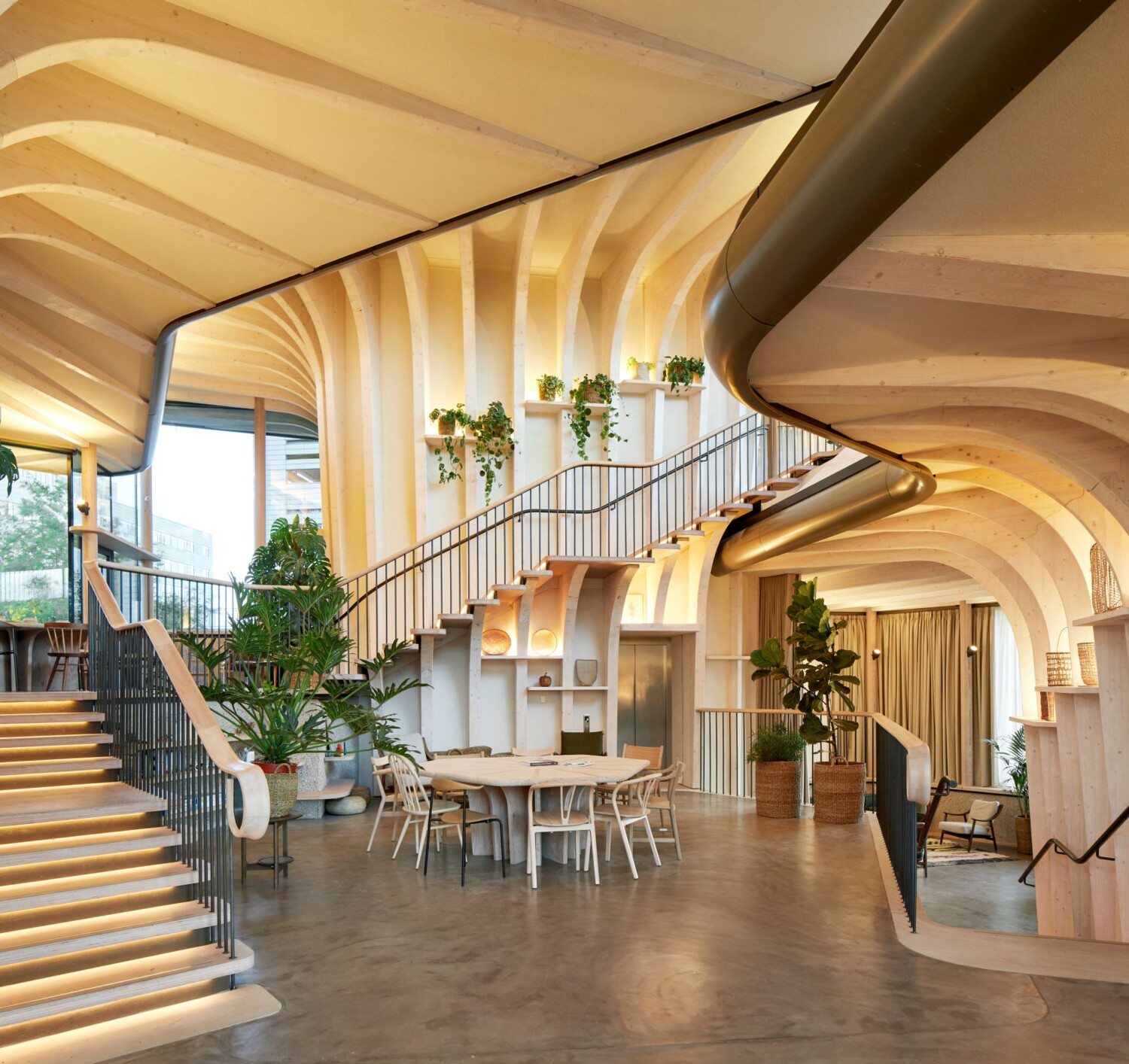 The Bumpers Oast project made an appearance as a finalist in the Housing Exterior category too, alongside two schemes from emerging architectural practice Alexander Owen Architecture. And ACME made it a hat-trick, appearing as a finalist in the Public Realm category for its Marsa Plaza scheme in Oman, along with Sayer Street + The Meadow by Jan Kattein Architects with landscaping by B|D Landscape Architects and lighting design by Michael Grubb Studio.
Denmark's Folly by KLINK // Rune Bundgaard made the cut in the Temporary Structure category, as did Pune's Symbiosis University Hospital by IMK Architects in the selection for Public Building Exterior.
Maida Smiles Dental Clinic made the list in the Public Building Interior category while in the Workspaces Exterior category, 40 Beak Street by Stiff+Trevillion Architects was praised by judge Sarah Castle of IF_DO for its use of glazed brickwork, fading from black into blue.
This project is also a finalist in the Commercial Building Exterior award with Nayara Tented Camp by Luxury Frontiers and Manchester's Express Building by Ben Adams Architects. The shortlist for the best Commercial Building Interior includes Pedra Silva Architects' Maida Smiles Dental Clinic, Silo Restaurant by Nina+Co Design and Buckley Gray Yeoman's 77 Coleman Street.
The Workspace Interior category also includes 77 Coleman Street plus ASA HQ by Marco Vanucci and Shell Homage by Rania Elkalla.
The winners of all the Awards, which are sponsored by the Business Design Centre, Mass Concrete and USM will be announced on Thursday 11 February 2021.
Here are the Surface Design Show Awards finalists in full:
Light + Surface Interior
| | | |
| --- | --- | --- |
| Project Name | Company | Country |
| Maida Smiles Dental Clinic | Pedra Silva Architects | United Kingdom |
| Maggie's Leeds | Heatherwick Studio // Light Bureau | United Kingdom |
| Apartment Block | Coffey Architects | United Kingdom |
| Padmanabham | Ritika Rakhiani | India |
| Leucos Wall Light | Andra Munro | United Kingdom |
| Backlit Onyx Staircase | Blee Halligan | United Kingdom |
 Light + Surface Exterior
| | | |
| --- | --- | --- |
| Project Name | Company | Country |
| Center Street Parking Garage | Marcy Wong Donn Logan Architects // International Parking Design (IPD) | USA |
| 108 Chambers | Woods Bagot | USA |
| Maggie's Leeds | Heatherwick Studio // Light Bureau |  United Kingdom |
 Housing Interior
| | | |
| --- | --- | --- |
| Project Name | Company | Country |
| Bumpers Oast | ACME | United Kingdom |
| Alpine Retreat | Galuchat | France |
| Cabin on the Coast | Studio Evans Lane | United Kingdom |
| Beach Home | Hedayat | Egypt |
 Housing Exterior
| | | |
| --- | --- | --- |
| Project Name | Company | Country |
| Bumpers Oast | ACME | United Kingdom |
| Hansler Road | Alexander Owen Architecture | United Kingdom |
| Amott Road | Alexander Owen Architecture | United Kingdom |
 Commercial Building Interior
| | | |
| --- | --- | --- |
| Project Name | Company | Country |
| 77 Coleman Street | Buckley Gray Yeoman | United Kingdom |
| Maida Smiles Dental Clinic | Pedra Silva Architects | United Kingdom |
| Silo Restaurant | Nina+Co Design | United Kingdom |
Commercial Building Exterior
| | | |
| --- | --- | --- |
| Project Name | Company | Country |
| Nayara Tented Camp | Luxury Frontiers | Costa Rica |
| Express Building (Manchester) | Ben Adams Architects | United Kingdom |
| 40 Beak Street | Stiff+Trevillion Architects | United Kingdom |
 Public Building Interior
| | | |
| --- | --- | --- |
| Project Name | Company | Country |
| Maida Smiles Dental Clinic | Pedra Silva Architects | United Kingdom |
 Public Building Exterior
| | | |
| --- | --- | --- |
| Project Name | Company | Country |
| Symbiosis University Hospital | IMK Architects | India |
 Workspaces Interior
| | | |
| --- | --- | --- |
| Project Name | Company | Country |
| 77 Coleman Street | Buckley Gray Yeoman | United Kingdom |
| ASA HQ | Marco Vanucci | Republic of San Marino |
| Shell Homage | Rania Elkalla | Germany |
 Workspaces Exterior
| | | |
| --- | --- | --- |
| Project Name | Company | Country |
| 40 Beak Street | Stiff+Trevillion Architects | United Kingdom |
 Public Realm
| | | |
| --- | --- | --- |
| Project Name | Company | Country |
| Marsa Plaza | ACME | Oman |
| Sayer Street + The Meadow | Jan Kattein Architects // Landscape Architect: B|D Landscape Architects // Lighting Designer: Michael Grubb Studio | United Kingdom |
 Temporary Structure
| | | |
| --- | --- | --- |
| Project Name | Company | Country |
| Folly | KLINK // Rune Bundgaard | Denmark |