ASALI X Ian Gough
Premium Leather Goods Company is Specially Commissioned by Former Wales International Rugby Union Player Ian Gough to create a Bespoke Bag
We're pleased to announce that ASALI, renowned for its range of military-inspired premium leather bags and accessories has been specially commissioned to design a bespoke Weekender Bag for Welsh Rugby legend, Ian Gough.
Since his retirement in 2015, Ian is now a sports commentator for the game he knows and loves, a new father to his second child and a keen flying enthusiast who likes to fly his YAK-52, a Soviet Trainer Aircraft that first took flight in 1976.
Thanks to their love of all things aviation, the collaboration between ASALI and Ian Gough was born. The idea first started last year when ASALI Owner Mindy Arora met Ian and Carol Vorderman on BBC Radio Wales, Swansea for its annual airshow. Somewhere between last year's airshow and this year's pandemic Mindy still managed to speak and create a YAK-52 inspired bag that Ian had hoped for.
What you need to know about a YAK-52
It is a Soviet primary trainer aircraft
It first flew in 1976
It is often used for those training to fly warbirds and do aerobatics
It has a 9 cylinder radial engine putting out over 400 horse power.
The Brief…
Ian wanted a classic weekender bag design and Mindy suggested the larger bag size to suit his sporting and family needs. They both worked together and trialled several different silhouettes of the Yak aircraft in flight before committing to the final look. To fulfil Ian's exact brief the ASALI team had to create a bespoke block that could be used for de-bossing of the aircraft so it could be put onto the bag in the right position during its production.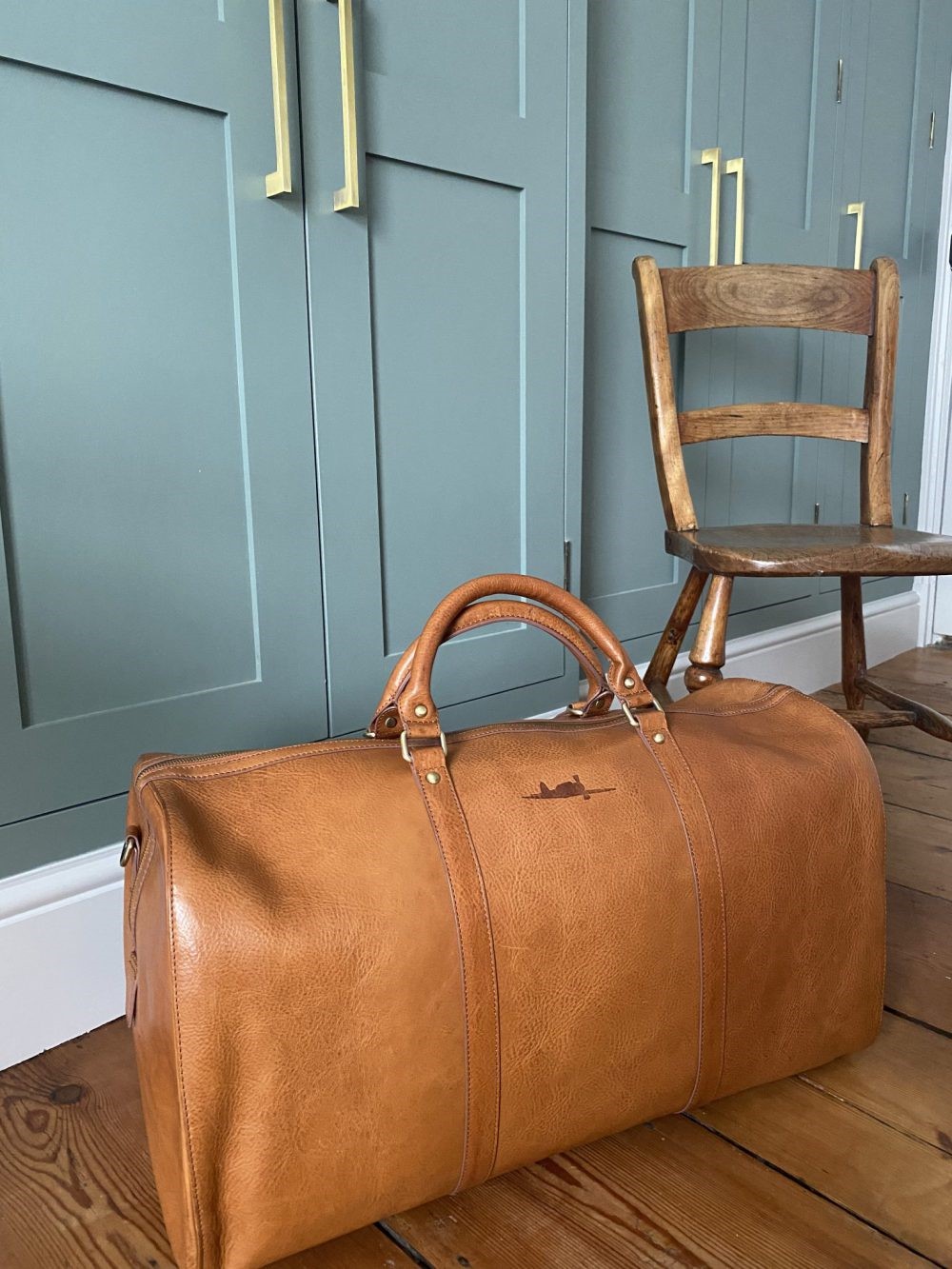 Bag Details
The final product is a Yak-52 Weekender Bag made from genuine Italian leather using a combination of hand and machine based techniques. The bag is finished with brass fixtures and fittings and all ASALI bags come with their own dust-cover. The best bit… The long strap was personalised, a service that ASALI provides on selected items to make their goods all the more special.
Own Your Own
The bespoke Ian Gough Bespoke Weekender Bag featuring the YAK silhouette is available to buy and can be personalised with your name. This bespoke design has become so popular that there is now a waiting list for the bag.
That's Not All…
The ASALI brand actively gives back to charity and is proud to support the RAF Benevolent Fund and RAF Association by donating a percentage of profits of sales, and by giving products to their various charity events.
ABOUT ASALI
Founded in May 2016 by Mindy Arora when she and her husband, a Typhoon Display Pilot, visited an airshow, Mindy realised a gap in the market for luxurious aviation inspired goods.
With airshows being second only to football in terms of annual crowd figures at outdoor events (TSA Consulting), Mindy set about researching the event and online market and ASALI was born. Having a background in marketing meant Mindy was in a good position to move things forward and turn her vision into reality.
All the products are designed in Lincoln but made in India in the family owned factory in Kolkata. The factory is an SA 8000 certified company ensuring all employee rights and safety are adhered to as a minimum.
ASALI products are made using a combination of both hand and machine based techniques, machines have been imported from Japan, Taiwan, China and Italy. The hand made nature and of course the leather itself means that each item is unique and variations in colour and finish are natural, without deviating from the highest quality.
ASALI offers a range of different leather types that are used across the product ranges including embossed, nappa and Italian to name just a few. 2020 will see new designs and leather being used.
Used and loved by RAF pilots and well known faces, including Phillip Schofield, the brand has grown to also offer our understated luxurious designs without aviation symbols, ASALI Designs is for the discerning aviation fan and you.
Highlights include:
Highly commended at the Lincolnshire Show 2018
Investing in the British made Hot Foil machine to offer personalisation.
Accepted by BAFTA award winning Arthur Williams into his collection
Being selected as a Theo Paphitis #SBS winner in 2019
Being used by members of the Silver Spitfire team
Supplying the Red Arrows, Typhoon and Chinook Display teams
Being invited to join Carol Vorderman and Ian Gough on BBC Radio Wales