BoxLife for Scavolini designed by Rainlight has been honoured at the 2020 NYCxDESIGN Awards
At Interior Design Magazine and SANDOW's first ever virtual award ceremony, Scavolini, Italy's leading kitchen brand for more than 30 years, was honoured with a 2020 NYCxDESIGN Award for the BoxLife system by Rainlight for Scavolini. The uplifting ceremony celebrating New York City's place as a global design capital was livestreamed to a total of more than 10,000 live viewers.
Taking inspiration from open-plan living that is all the rage and the blurring of boundaries between the kitchen and other areas, BoxLife is a one-of-a-kind modular storage system that is versatile for use in all areas of the home.
By concealing functions in a compressed series of 'boxes,' Boxlife is a system that is designed to optimise available home space so that these 'boxes' can be utilised as and when needed only.
The system has been carefully constructed so that it is equipped to suit every requirement from a kitchen module to a fold-able bed, office workspace, laundry unit and much more.
Built to enhance the square footage of any space, Boxlife is a completely adaptable living concept that will suit any space without forgoing style and comfort, from a compact city apartment to a less space-conscious farmhouse in the countryside.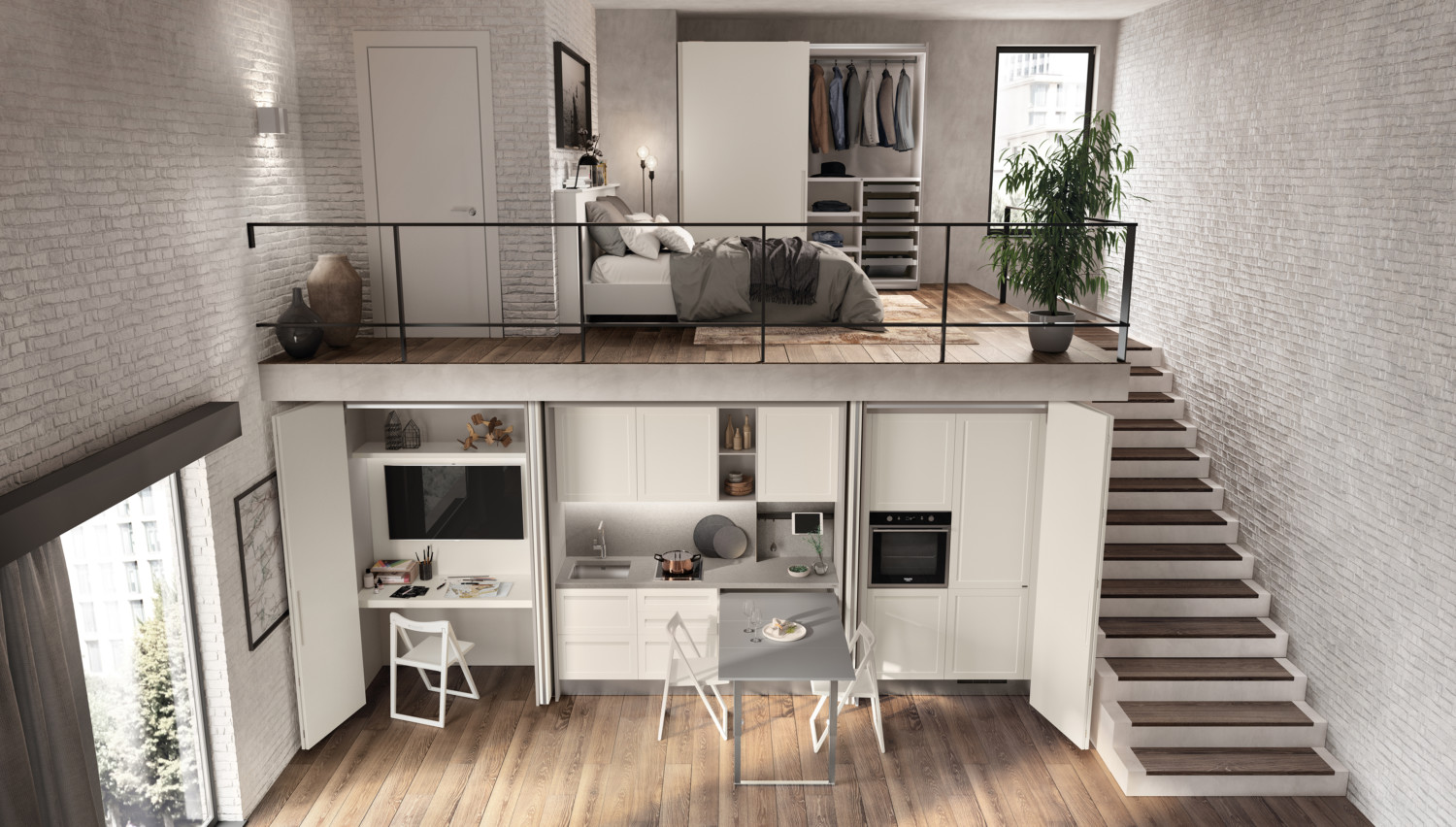 The fine, elegant details of Boxlife's features cannot be denied.
The panelling plays the lead role with its handles and pulls that were born with a promise of comfort and style that will stand the test of time – recessed handles are fitted on the outer panels, while the inner panels can be opened with a pull.
Following the same high standards are the classic 'Switch' cupboards which are comprised of retractable doors that can hold up to four appliances, a further sliding worktop, several shelves and storage drawers, along with sliding panel systems.
About Scavolini
For over 50 years, Scavolini has been thriving in the kitchen market and owes its success to the plenitude of experience it has accumulated over time that has allowed the brand to respond with ease to the tastes and trends of nearly three generations of consumers.
From humble beginnings in a small workshop, to a company that now holds major industrial status, the brand is built on foundations of unyielding willpower with careful consideration for its consumers and wider society, and with the needs of its surrounding area in mind.
A benchmark model for the entire industry, Scavolini's history tells a story of remarkable corporate growth that is principally attributable to the brand's unequivocal ability to acclimatise to changes in taste, lifestyle and the market and the arrival of every new development in technologies.
About Rainlight
Functioning between offices based in London and New York while collaborating with clients situated in North America, Europe and Asia, Rainlight is an integrated design studio that prides itself on its ability to develop innovative projects by design, and not by chance.
Not just any ordinary studio, Rainlight is part laboratory, part workshop and part studio and the company create products that fuse together inspired design thinking with sound business judgement to improve the wellbeing of people as they live, work, and play in real world situations.
By leveraging a deep network of experts in a diverse range of market sectors, Rainlight are able to conduct cross-cultural research and understand the needs of a changing world.