Concert has provided cost management services on mixed-use regeneration development North Wharf Gardens
Real estate consultancy Concert is pleased to announce that the North Wharf Gardens scheme for Concierge 3 has reached practical completion. Concert was involved in the pre, and post contract works, overseeing the cost consulting aspect of this new build development in Paddington, London. The project, which achieved BREEAM Excellent, is part of the Paddington Basin Masterplan, restoring this unique location between Paddington and Edgeware Road. The scheme is constructed on a two-storey basement car park with 19 floors sitting on a reinforced concrete frame.
The mixed-use space comprises a significant hotel and hybrid aparthotel development divided between two tenants: a 393-bed Premier Inn and 249 serviced apartments for Wilde by Staycity. Additionally, there is the 240 cover Bar + Block restaurant as well as a 27,000 sq ft MBS Sixth Form building, a new faculty of the nearby Marylebone Boys' School.
The project work was undertaken as part of an overarching scheme at North Wharf Gardens which endeavoured to create a vibrant, residentially led mixed-use development delivering 485 new homes, affordable business, retail and social and community spaces, including a new primary school, and a new public garden for Paddington. A theme of connectivity is prevalent across the site, with the garden having been built to provide a link between the mix of uses whilst connecting the development to the wider neighbourhoods to improve the social cohesion in the district.
To ensure a collaborative team approach was adopted, Concert's attitude throughout embraced cohesive work with the contractor and the client team, incorporating the brand's values which pride them on bringing harmony to every project by means of working in coordination alongside the whole project team and investing in fully understanding the client's needs.
White Ink Architects worked alongside Design & Build Contractor McAleer & Rushe to develop the planning approved design by Powell Dobson Architects. Together, the consultants incorporated characterful features such as a façade encompassing three types of materials: a combination of light and dark limestone and basalt cladding; metal rainscreen cladding acting as a golden feature and glazed masonry elements running vertically. A bespoke perforated aluminium sheeting adds texture to one elevation and a bronze anodized aluminium, serves as a unique feature to another elevation.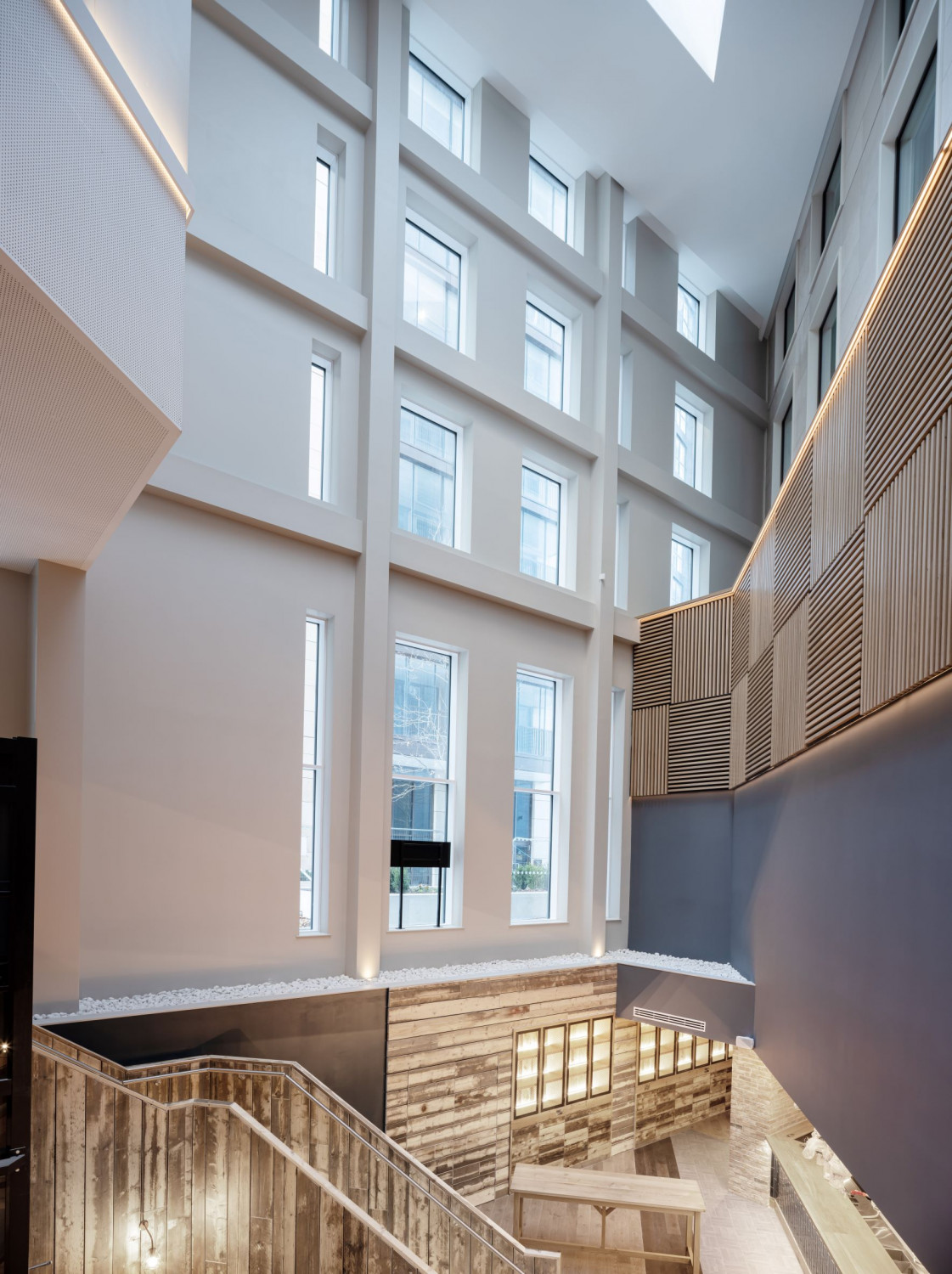 The principal team on the project was:
Planning Architect – Powell Dobson Architects
Delivery Architect – White Ink Architects
Employer's Agent – TPS
Services – Hoare Lee & Caldwell Consulting
Structural Engineer – Fairhurst & MCR Consulting
Design & Build Contractor – McAleer & Rushe
Fire – Michael Slattery Associates