BW: Workplace Experts rethinks every element of its projects for a Sustainable
BW has set itself a target to achieve net zero carbon by 2030
BW: Workplace Experts has set itself the target to achieve net zero carbon by 2030. As part of this, it has formed several key alliances with innovative and sustainable organisations that will support this endeavour.
Sustainability and the mission to achieve net zero has never been higher on the agenda, which is why BW: Workplace Experts has been implementing a series of measures within its business that align with reaching these objectives. The firm is taking action by looking into how it conducts its operations and considering how it can have a positive environmental impact on every single project.
Net zero carbon is just one of the three layers BW: Workplace Experts has outlined as key areas to focus on to improve its business for its people and the planet. The list also includes innovation and inclusivity. Achieving true 'Zero Carbon' status is very difficult to achieve, so many companies instead 'offset' any carbon that cannot be removed from their processes by funding activities that reduce carbon by the same amount elsewhere. This is known as 'Net Zero Carbon.' BW hopes to accomplish this for all direct and indirect emissions by 2030, along with achieving 100% circularity and zero waste, and a 100% sustainable & ethical supply chain.
BW also champions innovation, which it facilitates through business improvement groups, thought leadership, customer experience, technology advancements and collaboration with its sister companies in the US and Australia. In addition, BW wants to be at the forefront of making the industry inclusive for all underrepresented groups. The firm has been actioning this target by working in partnership with organisations that specialise in underrepresented groups, in order to re-think its employment practices, providing ongoing unconscious/consciousness bias workshops which enable the whole business to become more educated on the topic.
BW has set itself goals in each area to work towards in the short-term, the next year, and goals to achieve in the long-term, by 2030.
Kim Morgan, Sustainability Director at BW: Workplace Experts explains:
"The action required for businesses to make drastic changes to the way they operate to ensure a sustainable future is now an emergency. BW wants to be part of the change, introducing forward-thinking green initiatives with its customers and partners to shape what it builds and how things are built. Our journey began some years ago by first rethinking the fit-out process and everything it entails, and then identifying areas that could be improved on quickly by the team, and then areas that BW would need help from environmental experts.
Reducing waste will have the greatest impact on our carbon emissions – preventing the emissions from manufacturing products that are never used, transporting them to and from site and then disposing of them – and this has been the core of our strategy for several years now. There is always more to do but the combined dedication internally and externally has resulted in the continued integration of 7 Rs; rethink, repurpose, reduce, reuse, re-home, recycle, and refuse."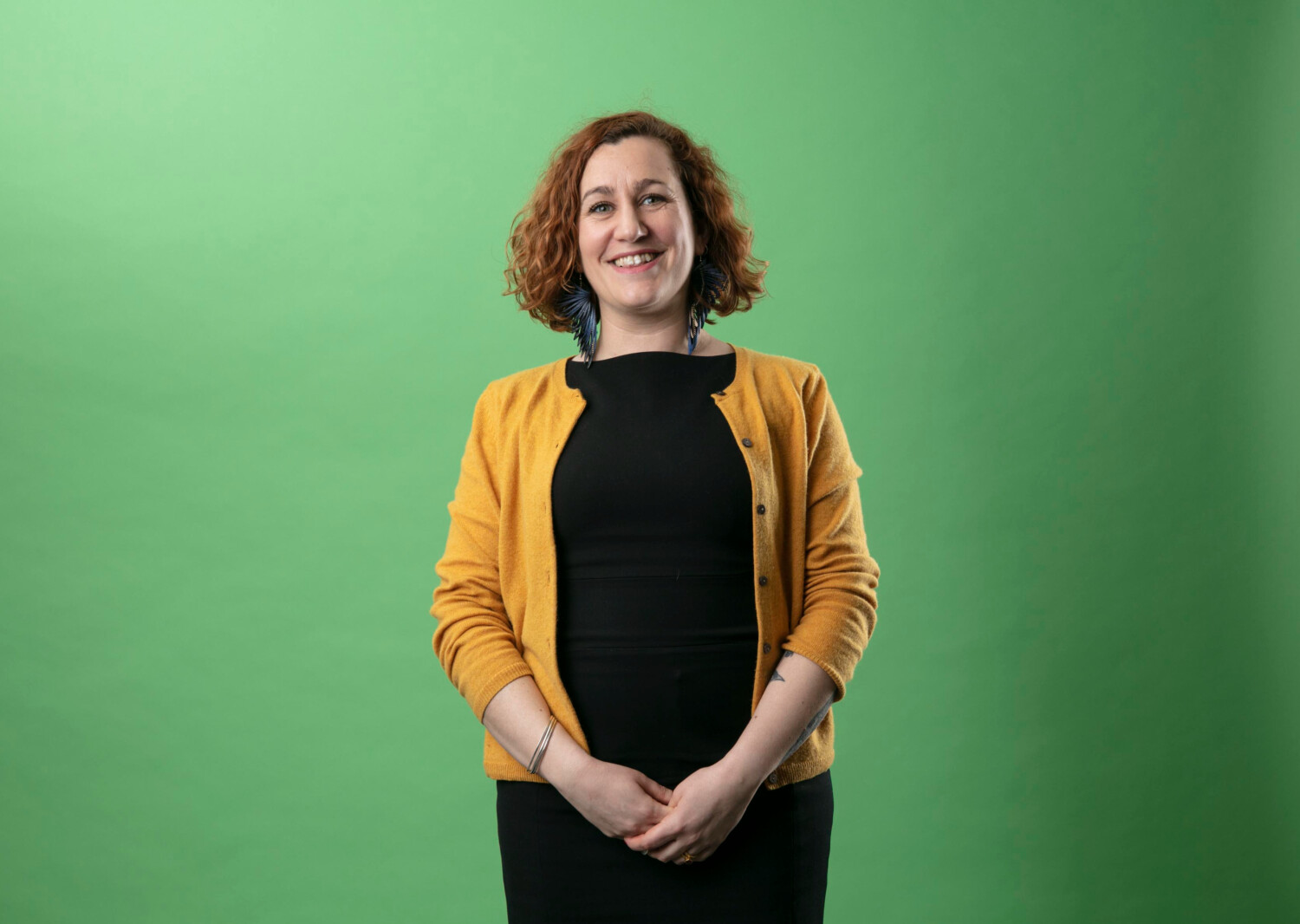 Repurpose
In a recent project BW completed a strip out, Cat B fit out and refurbishment on a government project in Westminster, London. The building was transformed with a refreshing, modern look that also featured an art project made from recycled materials. The Fallen Sky piece by visual artist Mercedes Balle serves as a reminder that waste can be reconfigured into something beautiful. Made up of discarded tiles onto which photos of the sky were transferred, the unconventional piece allows us to reflect on how much waste is thrown away every day without a thought for how it can be reused. BW is thrilled to be able to donate construction materials from its projects to Mercedes Balle, who uses the materials to make art about nature. A truly great example of less waste, more beautiful art pieces!
Reduce
Across all projects, BW is making a great effort to implement plastic-free site signage, having already replaced a commendable 71% of non-recyclable Foamex with cardboard in the last year alone, by using new fully recyclable signage. Site supplies are now delivered in environmentally friendly corrugated paper packaging, instead of plastic bubble wrap.
The initiative is not only helping to reduce plastic pollution on land and sea, but it is also helping to drive down BW's carbon emissions which are produced in the manufacturing processes of these non-recyclable materials.
Reuse
BW is a proud partner of Community Wood Recycling, a forward-thinking initiative that aims to save resources that would otherwise go to landfill, creating sustainable jobs, as well as training and volunteering opportunities for locals. The scheme collects waste timber from BW's sites that is perfectly good and directly reuses it in the community. The scheme is having a considerable positive impact on local communities. It improves both the environment, and the lives of disadvantaged people by providing jobs for local people. The initiative believes over time it could expand to around 40 or 50 franchises.
Rehome
BW: Workplace Experts actively finds new uses for fixtures and fittings in its projects, reducing waste going to landfill. On a recent project for a global brand based in Kings Cross, BW was pleased to work with PemPeople which runs community projects in Peckham. PemPeople collected new CAT A lighting from the development that was no longer of use, preventing it from being thrown away, instead repurposing the lighting. This 'take back' scheme contributed towards the transformation of 30 old garages on Old Kent Road into youth clubs and art spaces.
Recycle
BW has joined Carpet Recycling UK, a non-for-profit organisation that aims to reduce the amount of carpet waste going to landfill through Circular Economy principles, by which old carpet tiles are directly recycled into new ones. The organisation has been familiarising BW with its members, such as Envirocycle, to enable greater circularity for other products at BW. Together with Westgate who directly recycle the Hoardfast temporary partitions used across all BW sites, these firms are helping BW on its sustainability journey.
Refuse
BW is actively supporting the movement to protect 30% of our ocean by 2030, having removed single use plastic from its projects two years ago to reduce plastics pollution. Their partner Westgate also use the funds generated from their recycled materials to support the Marine Conservation Society. The society is the UK's leading marine environment, charitable organisation that works to safeguard the seas around the UK, by forming well controlled marine protected areas.