Relaxed Return – Developing a Comfortable Working Environment
It is widely known that having a comfortable working environment can greatly improve mental wellbeing, and in turn, productivity. Why not invest in your workspace with some of these essential products for the best home office organisation? See our top picks below.
Belong by Bisley – The Flexible Furniture Collection that Has It All Bisley designs and provides high-quality, reliable furniture for every working environment.
The Belong range is comprised of multiple collections, all designed by Bisley's experienced inhouse team, to create a sanctuary wherever you are so that you can focus and stay on top of your workload in comfort. When your place of work shifts from day to day, having a dependable, personal space maintains a sense of connection.
The range has a product for every need, but for those working from home, Bisley's Poise collection offers beautiful, design-led desking, the Outline collection boasts minimalistic steelframed desking, and the Hideaway Wall Desk is a space-saving wall mounted desk, perfect for those who want a practical homeworking solution that does not take up too much space.
The range which provides hard working, savvy solutions that do not compromise on style, also includes Bisley favourites like the MultiRange, a mix and match collection of desking and accessories that incorporates Bisley's iconic MultiDrawer cabinet. Newer additions include Platform, which helps to ensure your monitor is at the correct eye level, and Mosaic, a range of handy hooks and trays to further level up your home office organisation.
The Belong range really is an organised dream packed with the perfect homeworking and
storage solutions.
Find the stunning Belong range here https://www.bisley.com/products/belong/.
USM Haller by USM – The Design Classic that Just Knows How to Adapt
The USM Haller collection owes its success to its simple yet ingenious design that can be reconfigured time and time again to adapt to different uses. From a few basic components, a  beautiful and iconic piece of furniture is built; USM Haller has been designed to grow with its environments ever changing needs, ensuring its versatility in any design scheme, from the office, to the home.
The design classic has become increasingly popular in the style conscious home, owing to its amazing storage qualities and adaptability. Available in a range of classic colours, the USM Haller makes for a stylish desk, or the ultimate storage solution which will tidily pack away your home office at the end of the working day.
It is not surprising that in 2015 USM Haller modular furniture celebrated its jubilee year, a testament to the timeless qualities of this exceptional modular furniture system.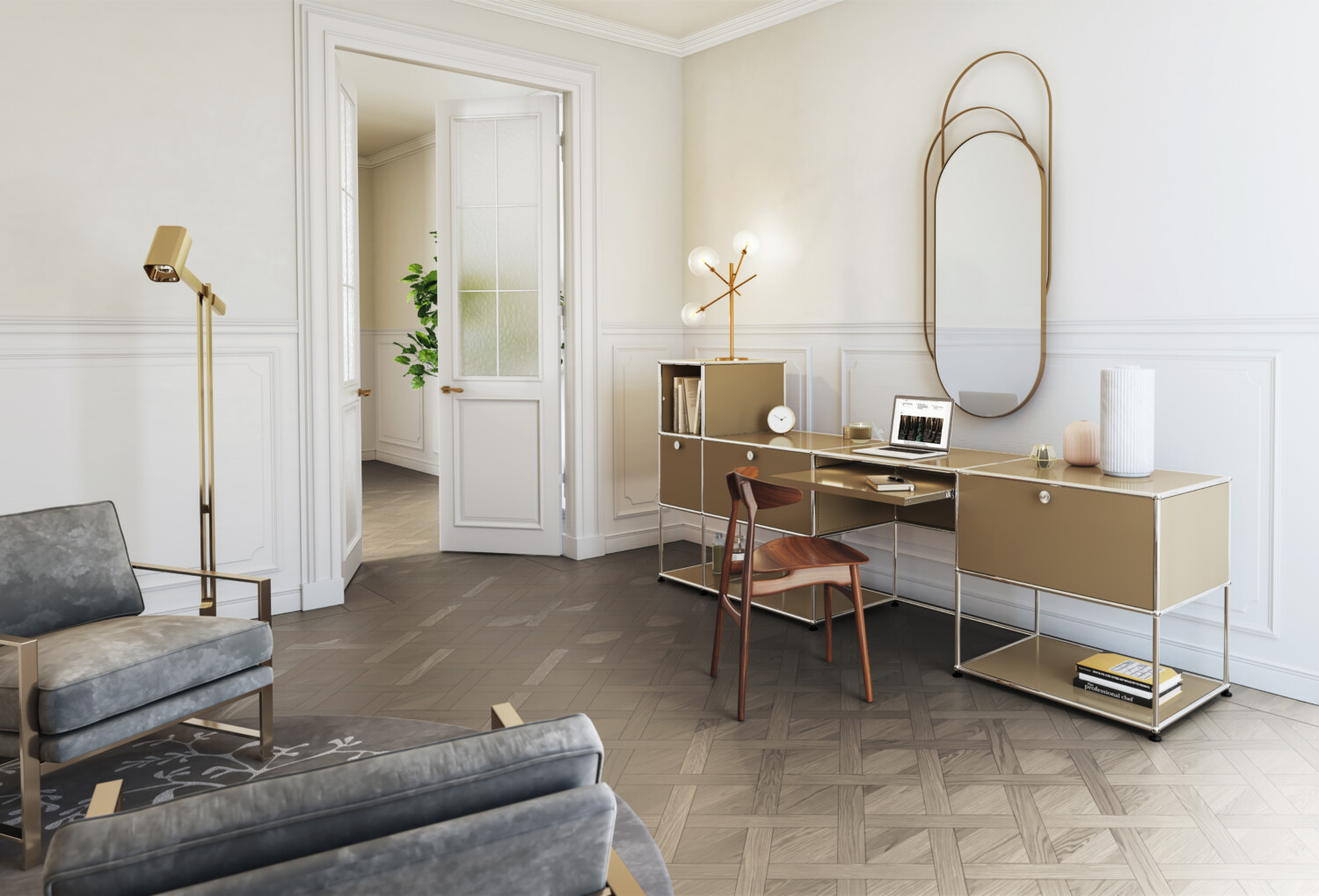 Find the incredible USM Haller Collection here https://www.usm.com/engb/home/products/usm-haller-collection/
Gustav by Tuesday On The Beach – The Ultimate Work on the Go Solution
Gustav is the first product offering from design studio, Tuesday On The Beach, founded by Chris Pistauer and Judit Maeredir. It is the first ergonomic and portable toolbox of its kind, allowing users to carry their workspace with them wherever they go. Light, beautifully crafted and with capacity to hold all the workplace essentials, the agile design is perfect for flexi-working.
Launched in 2017, the innovative office tool has already garnered a fantastic reputation,
winning a Red Dot Award in 2018 for its design. The simple and minimalist design features a business card holder, a phone, tablet, and notebook stand, felt pockets for office stationery and compartments for a laptop and documents. Gustav also doubles-up as a laptop stand (supporting 13- and 15-inch laptops) that enables an ergonomically correct posture to be achieved wherever you are working.
Gustav is available to purchase online from obo, the wellbeing-led workplace advisors, at https://www.obolife.com/gustav.