Winter Lighting Plans Made Easy with Hudson Valley Lighting Group
As the days become shorter and the nights longer, getting the lighting right in your home is all the more important to ensure you are well-equipped for all your lighting needs. From having a cosy night beside the fire to working from home, and preparing home-cooked meals when staying in feels more appealing than going out when it's cold and dark.
Hudson Valley Lighting Group has some stunning, timeless pieces to choose from that are guaranteed to add character to any living space. To help you prep your home properly, the brand has provided a useful guide on all you need to know when it comes to installing your gorgeous light fixtures.
No More Kitchen Drama
When hanging your island pendants, make sure to leave about 30–32″ from the island counter top to the bottom of your fixture, and space each pendant about 2.5-feet apart. If you want to use linear island lights, opt for a fixture with a length that does not exceed ²/³ of the island. For a very long island, consider two linear lights if your electrical situation allows it.
Bathroom Bliss
Side-mounted sconces should be about 28″ apart and placed on either side of a mirror. If your mirror is centred above the sink, mount fixtures just a few inches to the left and right of the mirror—as close to your face as possible. For side-mounting, about 60–65" of space between the floor and the midpoint of the sconce backplate should ensure your sconces are at the appropriate height. For a bath bar, about 75-80". Your bath bar should have a width of approximately 75% of the mirror's width.
Bedroom Cosy Done Right
Table lamps should be placed so the bottom of the shade sits about 42″ off the floor. Always consider the lamp's size in proportion to the piece of furniture it will reside on. Hang pendants so that the shade is about even with the side of your head or slightly higher from an upright seated position. Pendants used to replace portable lamps should be hung approximately 42″ above the floor. For bedside sconces, between 55-60″ of space from floor to top of sconce is ideal. For sconces with a switch or an adjustable arm, keep within arm's reach from a sitting position so you can easily turn it on and off.
Dining Room Ready
The chandelier over your dining room table should ensure there is 36" between the table and the fixture's lowest-hanging point. For round tables, compare the diameters of the table and
the fixture, aiming to keep the fixture 12–18" back from the table's edge. For a rectangular table, the ideal fixture width is 6" less than all edges of the table.
Entryways with Elegance
If hanging a chandelier in an entryway, with no table below it, add the room's length and width in feet to calculate the ideal diameter in inches. For example, a 7′ x 10′ room is best served by a 17″ fixture. For pendants, you should ensure that they do not hang lower than 7′ from the floor.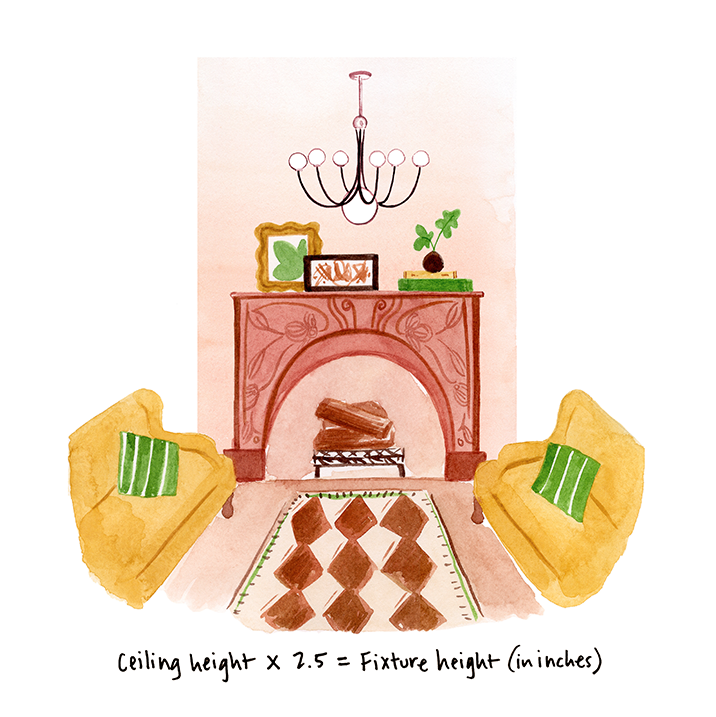 Hallway Lighting without the Hassle
To determine how many pendants to hang in your hallway, divide the length of the hallway by 8 and subtract 1. One fixture every 8' is the norm. Make sure to keep the base of pendants
about 7' above the floor. Flush and semi-flush mounts should be placed a minimum of 8′ apart and no more than 10'. There should be about 7' between the floor and the bottom of the fixture. If you plan to decorate your hallway with sconces, they should be about 72" – 96" apart.